Description: This panel is used both for the roof and sidewalls, the "PBR" panel's deep ribs create an even-shadowed appearance. The area between the major ribs is reinforced with minor ribs. The "PBR" panel is one of the most economical wall covering systems.
Dimensions: 36″ coverage x 1 1/4 "
Gauge: 24 and 26 (standard) with 22 and 29 available upon special request.
Length: 45′ maximum length is standard but longer lengths are available by special request.
Fasteners: Standard coated, zinc- aluminum cast head, or stainless steel head screw.
Finish: Galvalume Plus, Signature 200 & 300 Series
Usage: Roof, wall, liner, mansard, and soffit panel applications.
Limitations: Not designed for coverage over bar joist or to be used as rigid secondary.
Five foot on center purlin spacing
Description: A metal standing seam roofing product attached by using a variety of concealed, interlocking clips that provide for minimum panel penetrations. This panel can be used on new construction as well as retrofit on existing structures. This panel is designed to provide a high degree of weather tightness and has been tested by independent laboratories in accordance with ASTM E283 and E331 (for air infiltration and water penetration).
Gauge: 24 (standard), 22 (available on special request)
Length: 50′ maximum standard and longer lengths available by special request.
Fasteners: Concealed fastening system. The clips are available as floating or fixed. Two different clip heights are available to allow for thermal blocks.
Finish: Galvalume and Signature 300 Series.
Usage: New and retro fit applications.
Limitations: Recommended for roof slopes of 1/4:12 or greater. When using the fixed clip we recommend for double slope buildings 200′ wide or less and single slope buildings 100′ wide or less.(May vary upon extreme weather conditions.) Oil-canning is not a reason for rejection.

Feature:
1 No panel penetration is required over the building envelope other than at the end laps, and panel ends which are connected by a compression joint.
2 Panel side laps arrive at the job site containing a sealant.
3 Optional weathertightness warranty.
4 Factory notched at both ends with pre-punched holes.
5 End laps have a 16 GA. backup plate with pre-punched holes.
6 High or low clips.
7 UL 90.
8 Panels interlock by snapping together.

Benefit:
1. Specially designed to seal out the elements.
2. Contributes to the system's weather tight construction and ease of installation.
3. Assurance that roof system will remain weather tight for extended service life.
4. Field installation can commence or finish from either end of building.
5. Solid connection at end laps and proper fastener spacing.
The pre-punched holes improve installation and ensures proper panel placement. 6. Accommodates variety of insulation systems including 1″ thermal spacers at the purlin.
7. Lower insurance costs.
8. No need for seaming equipment. Ease of installation


Description: A metal standing seam roofing product attached to sub-framing using a variety of concealed, interlocking clips that provide for minimum panel penetrations. This panel can be used on new construction as well as retro-fit on existing structures. This panel design provides a high degree of weather tightness and has been tested by independent laboratories in accordance with ASTM E283 and E331 (for air infiltration, water penetration, and wind uplift).
Gauge: 24 (std.), 22 available by request Length: 50′ maximum is standard but longer lengths available by special request. Fasteners: Concealed fastening system. The clips are available as floating or fixed. Two different clip heights are available to allow for thermal blocks.
Finish: Galvalume, Signature 300 Usage: New and retro fit applications.
Limitations: Recommended for roof slopes of 1/4:12 or greater. When using the fixed clip we recommend for double slope buildings 200′ wide or less and single slope buildings 100′ wide or less.(May vary upon extreme weather conditions.) Oil-canning is not a reason for rejection. Features: – No panel penetration is required over the building envelope other than at the end laps, and panel ends which are connected by a compression joint – Panel side laps arrive at the job site containing a pre-applied sealant – Optional product and weather tightness warranties – Factory notched at both ends with pre-punched holes – End laps have a 16 gauge backup plate with pre-punched holes – High or low clips – UL 90 – 80% less exposed fasteners than traditional side lap panels and all fasteners are long life – Panel available in Signature 300 Series – The side lap has been tested for air infiltration and water penetration under ASTM E283 and E331 methods
Benefits: – Specially designed to seal out the elements – Contributes to the system's weather tight construction and ease of erection – Severe weather tightness and additional customer confidence – Field installation can commence or finish from either end of building or on both sides simultaneously – Solid connection at end laps and proper fastener spacing. The pre-punched holes improve erection and ensures proper panel placement – Accommodates variety of insulation systems including 1 " thermal spacers at the purlins – Lower insurance costs – Increased weather tightness and improved appearance – 20 year finish warranty – Minimal air infiltration and water penetration and acceptability among specifiers
Description: A unique feature of this panel is a vertical leg that is a side joint that is mechanically seamed with an electric seamer for a weather tight finish. This panel features concealed clips and easy to handle 16″ wide panels custom cut to the desired length. This panel can be installed directly over purlins or bar joists. It does not require a solid substructure for support. This roof system has several different UL90 construction numbers.
Gauge: 24 (standard) with 22 gauge available on request
Length: Maximum 50′ (standard), other lengths are available as special requests
Dimensions: 12″ or 16″ wide by 2″ high
Fasteners: A choice of concealed fastening clips is available for this panel system including UL rated clips. These clips hold the panel firmly in place without unsightly exposed fasteners. Each clip system offers the ability to accommodate thermal movement.
Finish: Galvalume, Sign 300 Usage: This panel is a structural panel that spans up to five feet on purlins, or can be used as an architectural panel over solid deck. This flat panel is designed with striations as an option to minimize oil-canning. It is designed to meet the ever-changing specifications and other industry codes.
Limitations: Recommended for roof slopes of 1/2:12 or greater. Oil canning is not a reason for rejection
Feature:
1. Factory applied mastic inside of female leg of panel is standard.
2. Swaged end laps.
3. Optional: Heavier gauges, striation
4. Design flexibility.
5. Roof runs without end lap panels may be erected from either direction.
6. Roof to wall transition.
7. 80% fewer exposed fasteners than traditional side lap panels and all fasteners are long life.
8. The side lap has been tested for air infiltration & water penetration under ASTM E283 and E331
9. Vertical Leg.
10.Insulated with thermal blocks.
11.High or low floating clips available.
12.High or low fixed clips available.
13.Panel available in Signature® 200, 300 and 300 Metallic paint.
14.UL 90.
15.Panel has striations. American Steel Buildings
Batten-Lok Roof Panel – Agricultural – Aircraft Hangars – Automotive – Boat Storage – Church Buildings – Commercial/ Retail – Custom Design – Equestrian – Manufacturing – Mini-Storage – Office Buildings – Personal Garage – Pre-Engineered – Recreational – Warehouses Roof Panels PBR Double-Lok Retro-R Craftsman Lok-Seam Wall Panels PBR PBA PBU Insulated Panels Liner Panels Color Charts Ultra-Dek Batten-Lok Super-Lok Traditional Shadow-Rib Nu-Wall Primary – Gable Symmetrical – Gable Unsymmetrical – Single Slope – Lean-To Secondary – Purlins – Girts – Eave Struts – Base Condition – Building Design – Quote Request – Canopies – Eave Trim – Framed Openings – Insulation – Louver Vents – Mansards/ Facades – Overhead Doors – Parapet Walls – Partition Walls – Purlin Extensions – Roof Vents – Skylights/ Wall-Lights – Sliding Doors – Walk Doors – Windows Home > Panels > Batten-Lok Roof Panel Call Us Today for a Building Quote 1-800-511-3670 Benefit:

1. Watertight & easier installation
2. Improved installation & improved appearance.
3. Minimizes oil canning.
4. Optimal economy.
5. Flexible and convenient installation.
6. Creates a trimless eave.
7. Increased weathertightness & improved appearance
8. Minimal air infiltration and water penetration & acceptability among specifiers.
9. Better transition to hip, valleys, and roof openings.
10. High energy efficiency system.
11. Allows roof to expand and contract maximizing weathertightness.
12. Varying insulation thicknesses available
13. 25 year finish warranty
14. Lower insurance costs
15. Helps with oil canning


Description: Retro-R, the new patented retrofit roof system from NCI, is the fastest and most economical solution to your re-roofing dilemma. This one-step setup is designed for easy installation over your existing metal roof. Retro-R is cost effective with savings up to 50% over other roofing solutions. And because it is so easy to install, Retro-R will not interrupt the normal course of your business. Retro-R is available in a wide variety of colors or with a Galvalume finish. Let Retro-R save the day, by saving time and money.

Gauge: 29
Finish: Galvalume, and Commercial – Industrial Series
Fasteners: *ASB recommends a "Long life fastener" * ASB does not recommend self-drilling fasteners.
Usage: Retro-R is an environmentally safe, cost-effective retrofit solution that will cover over the existing leaky roof.
Limitations: Not to be installed over open framing and requires original "PBR" panel to be structurally sound

Feature
1. Environmentally safe, cost-effective retrofit solution
2. Retro-R is designed to be installed over existing "PBR" type roof panels.
3. Retro-R utilizes the existing "PBR" panel deck to alleviate the need for any additional subframing, structural components or expensive material tear-off.
4. Factory applied vapor barrier
5. Installation is easy
6. Cover existing out-of- module systems

Benefit
1. Cover over an existing leaky roof
2. No material tear-off
3. Because of this characteristic, the panel end-lap does not have to occur in close proximity to the structural roof support.
4. Designed to reduce condensation
5. Existing roof is a solid work surface which reduces labor costs 6. Solves difficult situations
Description: The SuperLok standing seam roof system blends the aesthetics of an architectural panel with the strength of a structural panel. This panel has earned uplift ratings that are the highest in the industry for standing seam roofs, assuring the reliability of performance. This panel is Factory Mutual approved to satisfy stringent code requirements and is ICBO approved.

Dimensions: 12″, or 16 " wide and 2″ high
Gauge: 22 & 24 (minimum quantity may be required)
Length: The maximum recommended length is 50′.
Fasteners: Concealed fastening system. A choice of concealed fastening clips are available for this panel system including UL rated clips. These clips hold the panels firmly in place without unsightly exposed fasteners. Each clip system offers the ability to accommodate thermal movement.
Finish: Galvalume and Architectural Series
Usage: SuperLok is a field seamed panel that combines a slim rib with exceptional uplift resistance. This panel has been designed to withstand the most rigorous conditions. This system was designed to be installed over open framing, 5/8″ plywood, or a composite roof assembly may be used as alternate substructures.
Limitations: Minimum recommended slope: 1/4 on 12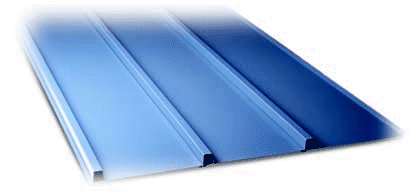 Description: Designed for installation in a variety of commercial and residential roofing and mansard applications. The panels are to be used over solid wood or metal decking that has been laid with 30 pound felt and has minimum slope of 3 on 12. The panel includes a 1″ or 2″ high rib. Hold-down clips secure the panel to the substrate and are located 2′ on center (maximum). The Craftsman batten is available with factory applied sealant for added weather resistance. The Craftsman Series design makes complicated building transitions simple without the necessity of flashings. Hip, ridge, and valley conditions can be designed into any project. Slope changes from roof to fascia to soffit can be made with one continuous pan and batten.
Gauge: 22, 24 and 26 (22 & 26 minimum quantity may be required)
Finish: Galvalume Plus, Signature 200 & Signature 300 Series.
Lengths: Maximum recommended 40'0″
Fasteners: Concealed fastening system. Each profile has its own concealed clip that securely locks the batten to the panel while allowing for expansion and contraction.
Dimensions: 12″ wide by 1″ or 2″ high.
Usage: The Craftsman™ Series is a water shedding panel system and can be used for roofs and mansards only when installed over a waterproofed solid substructure and the roof has a minimum slope of 3:12. When used for fascias and soffits, either the MBCI Lite Frame system or a solid substructure can be used.
Limitations: Minimum recommended slope of 3 on 12. The panel is not designed for application over metal building purlins with blanket insulation

Feature
1. Panel qualifies for a UL 90 wind uplift rating when applied over plywood.
2. Panel carried a UL "Class A" fire rating classifying it as a non-combustible product
3. Panel pan design
4. Panel joint is completed with a separate snap on batten
5. Alternate rib height – a nominal rib height of 2″ is available by utilizing a 1 3/4″ panel leg with the same 1″ high batten.

Benefit
1. Lower insurance costs possible.
2. The simple design of the panel pan allows for it to be press broken into a pie shape for radius applications.
3. Allows for ease of installation particularly on projects that have hips, valleys, dormers, etc.
4. Provides for increased weather resistance and a deeper shadow line
Description: These attractive, cost-saving panels are designed to be applied over solid wood or metal decking that has been laid with 30 pound felt and has a minimum of 3 on 12 slope. Smooth or embossed surfaces are available to reduce oil canning. This 12″ panel offers the best combination of aesthetic appeal and cost-effectiveness and is available in the widest range of materials. The Traditional® Series panels have integral locking systems, a 1 3/16″" waterproofing leg design & excellent expansion and contraction properties. Hold-down clips are concealed, do not penetrate the panel and are typically located 2′ on center (maximum). The traditional series is an integral batten panel system. This series is available in two distinct profiles and one functional panel width. Nearly any look is afforded the designer with this series. The pan and batten are manufactured as one piece, assuring a uniform appearance and a stronger cross section. Two bold profiles are available: Square (S), & beveled (B).
Gauge: 24, and 26
Finish: Galvalume Plus, Signature 200 and Sign 300.
Lengths: Maximum recommended 40′-0″
Fasteners: Concealed fastening system. A secure interlock at the panel joints is achieved using the exclusive 3″ HideAway Roll-in Clip for roofing applications and the 1 1/2″ HideAway Transition Clip when the design includes a slope change. Both clip systems allow for expansion and contraction. An economical Positive Fastening method is also available for steep slopes and vertical applications, but not recommended for roofing applications.
Dimensions: 12″ wide by 1 5/8″ or 2″ Usage: Used for fascias and soffits, either the MBCI LiteFrame® system or a solid substructure can be used.
Limitations: Minimum recommended slope of 3 on 12

Description: The LokSeam® standing seam roof system blends the aesthetics of an architectural panel with the strength of a structural panel. This panel has earned several uplift ratings assuring the reliability of performance. The LokSeam® is an architectural panel that is offered in 12″, 16″, or 18″ coverage. This panel is offered in striated, smooth or embossed surfaces. Continuous panel transition from roof to fascia.
Gauge: 22, 24, and 26
Finish: Bare Galvalume and Signature 200 or Signature 300 Paint Finishes.
Lengths: Recommended 50′-0″ maximum.
Fasteners: Concealed fastening system. a choice of concealed fastening clips is available for this panel system including UL rated clips. These clips hold the panels firmly in place without unsightly exposed fasteners. Each clip system offers the ability to accommodate thermal movement.
Dimensions: 12″, 16″, or 18″ wide and 1 3/4″ high
Usage: LokSeam® is a snap-together system that was designed for transitions from roof to fascia for a continuous, uninterrupted appearance. A dieformed rib cover is available for use with this detail. This system was designed to be installed over open framing, 5/8″ plywood, or a composite roof assembly may be used as alternate substructures.
Limitations: Minimum recommended slope: 3 on 12. Not recommended for application over metal building purlins with blanket insulation.

Feature 1. System snaps together – does not require mechanical seaming to achieve a UL 90 wind uplift rating 2. The side lap has been tested for air infiltration and water penetration under ASTM E283 and E331 methods 3. Panel can be installed in a continuous transition from roof to fascia by cutting the side lap and bending the panel pan 4. Sealant factory applied 5. Weather tightness warranty available 6. System qualifies for UL 90 wind uplift ratings under four types of construction including metal building and conventional design Benefit 1. Ease of erection, lower insurance costs possible 2. Minimal air infiltration and water penetration 3. Ease of erection, and clean appearance 4. Reduces erection labor 5. Additional Customer confidence 6. Lower insurance costs possible, acceptability among specifiers
Call American Steel Buildings today


Description: This panel is used both for the roof and sidewalls, the "PBR" panel's deep ribs create an even-shadowed appearance. The area between the major ribs is reinforced with minor ribs. The "PBR" panel is one of the most economical wall covering systems.
Dimensions: 36″ coverage x 1 1/4 "
Gauge: 24 and 26 (standard) with 22 and 29 available upon special request.
Length: 45′ maximum length is standard but longer lengths are available by special request.
Fasteners: Standard coated, zinc- aluminum cast head, or stainless steel head screw.
Finish: Galvalume Plus, Signature 200 & 300 Series
Usage: Roof, wall, liner, mansard, and soffit panel applications.
Limitations: Not designed for coverage over bar joist or to be used as rigid secondary. Five foot on center purlin spacing
Description: The Architectural "PBA", Panel for sidewalls produces a decorative smooth shadow line creating a distinctive architectural effect with semi-concealed fasteners. Ribs are 1 1/8″ deep and major corrugations spaced 12″ on center. The net coverage of panel is 3′-0″.
Gauge: 26 and 24
Lengths: Maximum recommended 45′-0″. Longer lengths available on special order.
Fasteners: Various, depending on application
Finish: Galvalume & Commercial – Industrial Series.
Dimensions: 36″ wide by 1 1/8″ deep
Usage: Wall panel, liner panel, soffit panel, mansard panel face and back sheet
Limitations: Installation may be difficult with very thick insulation. American Steel Buildings

Features:

1. Semi-concealed fastener panel.
2. Striations
3. Signature® 200 Series.
4. Continuous eave to sill until panel exceeds 40′-0 length.
5. Signature® 300 Option.
6. Optional Embossed texture.
7. Fire rating

Benefits:

1. Attractive architectural application.
2. Reduces oil canning, textured appearance.
3. 25 year finish warranty.
4. Attractive with no end laps, and ease of installation.
5. Premium paint finish with 25 year warranty, resistance to color changes and chalk.
6. Embossing the metal reduces glare and the potential for oil-canning.
7. Panels carries a UL "Class A" fire rating


Description: The "PBU" utility panel with ribs 6″ on centers is especially useful for liners, partitions, soffits, etc., because of its shallower 3/4″ deep ribs and relative ease of erection.
Gauge: 24 and 26 (standard) with 22 and 29 available upon special request.
Length: Maximum recommended 40'0″. Longer lengths available on special order.
Finish: Galvalume
Usage: Wall panel, liner panel, soffit panel, mansard panel face and back sheet

Feature:

1.) Galvalume
Plus 2.) Reverse rolled profile ribs
3.) Fire Rating
4.) Continuous eave to sill until panel exceeds 40'-0" length
5.) Signature 300 option
6.) Face fastener 7.) Embossed Texture
8.) Optional perforated condition.

Benefit

1.) 20 year warranty
2.) Places color on the reverse side of the panel yields a flat profile appearance with fasteners recessed in flutes
3.) Panel carries a UL "Class A" fire rating
4.) Attractive with no end laps, and ease of installation
5.) Premium paint finish with 25 year warranty, resistance to color changes and chalk
6.) Yields diaphragm capabilities and girt stability
7.) Embossing the metal reduces glare and the potential for oil-canning.
8.) Ventilation or acoustical applications
Description: The ShadowRib panel combines aesthetics, economics, and function to bring definition to metal structures. ShadowRib is a proven performer and a versatile tool to the designer. Dimensions: 16″ wide by 3 " high.
Gauge: 24 and 22 (minimum quantity may be required for 22 gauge)
Finish: Galvalume Plus
Length: Maximum recommended 40′ 0 "
Fasteners: Concealed fastening system. Panels may be secured to the structure from outside the building with the ShadowRib concealed clip, or from inside the building with an expansion fastener. Both are positive fastening methods that create a secure interlock between panel and structure.
Usage: The ShadowRib panel can be used for walls, fascias, and equipment screens. Apply the panel over light gauge framing, purlins, girts, structural steel, and joists. In many instances, the panel can span from floor to ceiling without interior support, making it ready to apply a variety of insulation methods into the 3 " cavity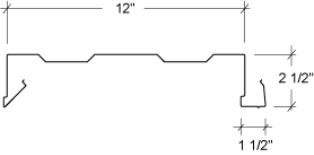 Description: The NuWall panel combines the ease of installation in both new or retrofit applications with a pleasing aesthetic appeal. The shadow lines created with the NuWall panel will enhance any structure's appearance. Installation of panels is performed outside with no disruption of the workplace on the inside.
Dimensions: 12″ wide 2 1/2 " high
Gauge: 22, 24, & 26 (All gauges have a minimum quantity required)
Length: Recommended 40′ 0 " maximum.
Fasteners: Concealed fastening system. The panel is attached to the structure with self-drilling fasteners on one side of the panel only. No clips are required. The adjoining panel simply snaps into the previous panel, concealing the fasteners from view.
Finish: Galvalume Plus and Architectural Series
Usage: NuWall is ideal for both new and retrofit applications. In retrofit applications, the NuWall panel can be installed over an existing "PBR" panel wall. This saves both labor and material. Other panel profiles and other forms of construction may require the use of sub-girts
Call American Steel Buildings today